I originally came from Malaysia , immigrated here 46 yrs ago (since1970). Came to study at Canterbury U., loved the country, married & settled down. Now we have 3 children - 2 boys & a lovely little girl.
We live in Auckland in the North Island.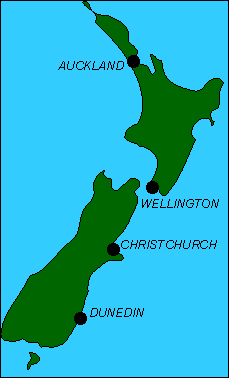 Map of New Zealand or Aotearoa. Land of the Long White Cloud






Message: 18/05/05
1) Added water blasting the roof of our house& sanding a BBQ table. See the "Life in Auck" page
2) Incorporated a guest book. Please sign my guest book at the bottom of this page. Any comments are appreciated. Enjoy.
3) Melanie "Matisse" Aw with her bold coloured paintings - go to "Melanie" page(26/11/02)
4) Had to finish a task set by my wife B4 I can go back to Pg. or attend the alma mater re-union party >> Go to "Auck Life"page (29/11/02)
5) Posted some nostalgia of my youth at secondary school - with me mates at our Alma Mater (PFS) About 20 images will be renewed & rotated weekly. So do visit me regularly.( 29/11/02) Go to "Old PFS fotos" page.
6) Helped a Hong Kong friend install his kitchen wall tiles. (2/12/02) see "Auck Life"page
7) Created an SXI school reunion page The reunion was held at SXI Penang 21/12/02 - Go to " SXI reunion" section, a mystery page. Click on the numbers to reveal the treasurable fotos taken that nite as well as our teenage years.
8) My building project for the year 2005 - to remove the old wooden deck & install a new wooden deck & fix the spa pool in the deck area. Started in Dec 2004 & finished in Mar 2005. a lesson learnt about installing wooden deck is to use thicker wooden plank of thickness 40mm as opposed to 25mm. I used the 25 mm thick treated planks for the lower deck & the thicker 40mm planks for the upper deck. So much easier to work with the thicker - less bow & better quality timber with less noggings & heart wood.
9) Linked to my other social activities - Dancing & work's social club ( April 2006) See the "Life in Auckland" page.
10) Added more B/W enhanced fotos of our youth in the "PFS folder" & " SXI " folder (Jan 2016). Corrected some broken links & added more fots. esp one of Fook-leng downtrou.

11) Jan 2-2016 -- Posted another 18 fotos. of our scouting days. So now total no. of fotos. in "Old PFS" = 74 images

12) Jan 3-2016 -- added new guest book.

13) Posted a new page of "My garden" - depicting some of my exploration into the gardening world - I find gardening relaxing & soothing for the soul.

14) Working in my retirement time as a contract casual gardener - leisurely plodding along, a dig here & a deheading there. Mainly to remember to smell the roses.

15) (2/1/16) Added our Boy Scout group foto taken 1963- contributed from my old mate Boey Tuck-kong ( see Old PFS fotos).
U R visitor
Sign In, Please...